In view of the COVID-19 pandemic that has caused nationwide lockdowns and serious disruptions to business operations in many countries, telemedicine has become a solution to patients who are now housebound and clinicians who can only work from home. As a pioneer in promoting tele-ophthalmology, APTOS is eager to share with the ophthalmic community how tele-ophthalmology is practiced in different parts of the world, especially in the Asia-Pacific region, on which COVID-19 has wreaked havoc. As we are encouraged to practice social distancing, many ophthalmology meetings are cancelled to prevent unnecessary social contacts. Webinars and virtual meetings are now a seemingly effective outlet for interactions and academic exchange. APTOS would, therefore, like to take this opportunity to launch its monthly webinars in which keynote speakers and tele-ophthalmology practitioners are invited to share their experiences in practicing tele-ophthalmology, particularly in the time of the COVID-19 pandemic where social contacts are discouraged.

The premier APTOS webinar was conducted on June 12, 2020 (Friday) from 8:00 – 9:00 p.m. (GMT+8) and has been made a recurrent event on the second Friday of every month. We are honored to have Dr Alarcos Cieza from the Headquarters of the World Health Organization (WHO) kick off the APTOS webinar series on June 12. Dr Cieza is the Unit Head of Sensory Functions, Disability and Rehabilitation of the Department for Noncommunicable Diseases, overseeing WHO's work on vision, hearing, rehabilitation and disability. This includes the implementation of the Universal eye health: a global action plan 2014–2019, the World Health Assembly Resolution 70.13, Prevention of deafness and hearing loss, and the Disability Action Plan 2014-2021.

In our third webinar series that focuses on digital health in the 5G era, we are privileged to have Dr Eric ROSENBERG from the Digital Ophthalmic Society share with us digital visualization in the anterior segment and digital health solutions in our upcoming webinar on June 11, 2022. Click here for details of the program.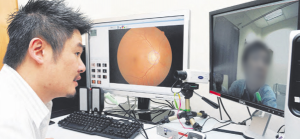 We can now accommodate as many as 1,000 participants in our webinars so that you won't have the fear of missing out. Click here to sign up for the APTOS June webinar. Free access will be granted on a first come first serve basis the moment you join the webinar. The 1,001st attendee will not be allowed into the webinar and will be prompted that the event is full. The best way not to miss it will be getting ready for the webinar a bit ahead of the scheduled time so that you can be with us once it is broadcast. Please be sure that you do sync your calendar when you sign up to receive meeting reminders.

APTOS members can always review the recorded webinars and presentations made during our annual symposium in our members only portal. Click here to learn more about APTOS membership.

In anticipation that borders will reopen soon with relaxed quarantine rules, the June webinar in 2022 will conclude our webinar series. Click here for our past webinars. We will continue to organize online AI seminars and have a variety of new initiatives underway. We look forward to seeing you both online and face to face.